By Nancy Hirschl, BS, CCS, AHIMA-Approved ICD-10 Trainer
Vice President, HIM & Product Strategy
Streamline Health
With the dramatic onset of the COVID-19 pandemic, CMS issued brand new ICD-10-CM codes to identify and reimburse COVID-based encounters, along with new—and subsequently adjusted— rules for using them.
The sequence below captures the complexity of this unprecedented scenario from a medical coding perspective: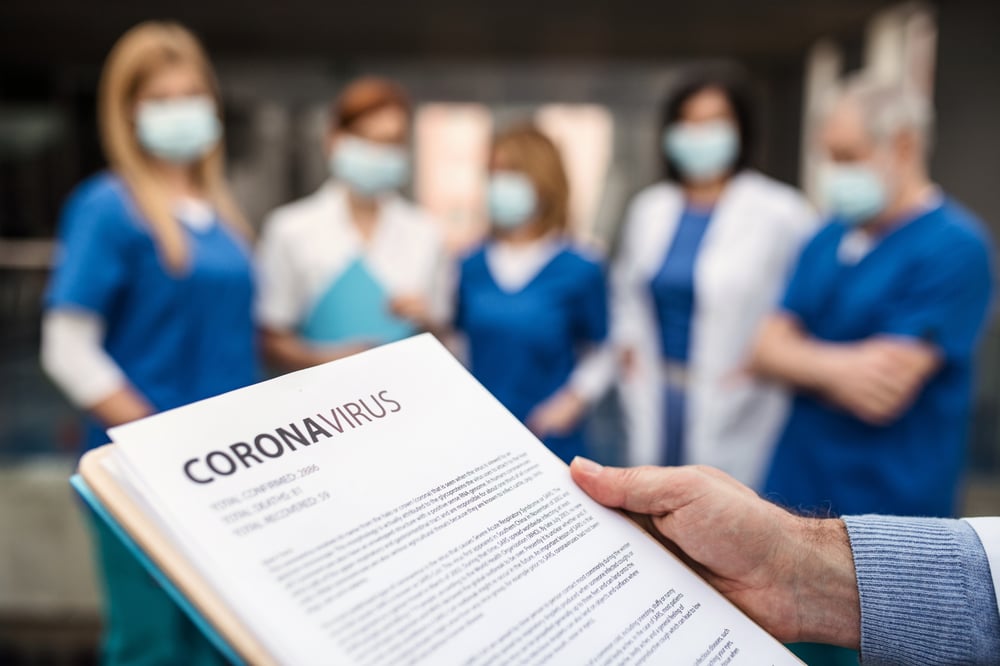 For COVID-related discharges/encounters occurring on or after January 27, and on or before March 31, medical coders for providers (both hospitals and physicians) were instructed to assign ICD-10-CM diagnosis code B97.29, Other coronavirus as the cause of diseases classified elsewhere as a secondary diagnosis. Codes for the COVID-related conditions such as pneumonia, bronchitis or ARDS were to be assigned as principal or first-listed diagnosis code.
On February 20, WHO presented a new ICD-10 Code (U07.1, 2019-nCoV acute respiratory disease) for COVID-related care.
On April 1, CMS issued unprecedented regulatory guidance for coders/providers to report COVID-19 using ICD-10-CM code U07.1. The new guidelines state that the provider should "Code only a confirmed diagnosis of the 2019 novel coronavirus disease (COVID-19) as documented by the provider, documentation of a positive COVID-19 test result, or a presumptive positive COVID-19 test result. This is an exception to the hospital inpatient guideline Section II, H."
On April 15, 2020, CMS published an update that notified hospitals that any encounter where COVID-19 was reported using code U07.1 would receive a 20% increase in DRG reimbursement.

For providers attempting to accurately code and be properly reimbursed for these encounters, the sequence here exposes a truly daunting task:
Starting April 1, code B97.29 will not generate the correct DRG and associated reimbursement nor the corresponding 20% DRG payment increase
Encoders may not be providing Date of Service (April 1, 2020) edits/flags regarding the new parameters yet
Coding Clinic Guidelines are issued quarterly, so coders may not have access to latest regulations
Unfortunately, this represents a 'perfect storm' scenario for provider organizations. Operations have been dramatically impacted, staff member's lives are undergoing tremendous change, and for this sudden surge of COVID-related care, getting accurately reimbursed requires coding staff to single-handedly navigate these complex requirements. Factor in the rising costs and the drop in higher revenue-generating procedures, and this is truly a recipe for financial disaster.


"Cases with potential COVID-19 related coding and reimbursement issues
can be proactively identified and addressed prior to billing."


To avert this negative impact—and prevent such issues in the future—more providers are leveraging eValuator™, the comprehensive revenue integrity program based on automated pre-bill coding analysis. Using rule-based technology developed by seasoned auditors and revenue integrity experts, cases with potential COVID-19 related coding and reimbursement issues can be proactively identified and addressed prior to billing.
This approach combines technology and subject matter expertise to help coders and auditors submit the correct codes in the first claim/billing submission and also enables efficiencies in managing coding in this difficult time. Specifically, this approach will rapidly implement eValuator's COVID-19 specific MS-DRG rules that identify incorrect, re-sequenced or omitted diagnosis codes, as well as incorrect procedure codes. And for providers who lack the resources to maintain audit productivity under these circumstances, experienced remote-based audit staff stand ready to assist to help ensure optimal capture of compliant revenue at this crucial time.
Additionally, this automated pre-bill analysis of coding accuracy is performed on 100% of inpatient and outpatient coding, which means providers will have an objective, rules-driven system reviewing all encounters and providing actionable guidance on potential issues in real time. When services return to normal and elective procedures begin, organizations will already have a system in place to proactively optimize financial performance across the enterprise.
To learn more about the benefits of the eValuator™ comprehensive revenue integrity program, visit https://streamlinehealth.net/coding-cdi/streamline-health-evaluator-revenue-integrity/
See for Yourself
As more providers are discovering, pre-bill technology is the key to optimizing revenue integrity and financial performance across all service lines. As the leader in solutions to optimize coding accuracy prior to billing, Streamline Health is helping providers establish a new normal that improves their bottom line despite these challenging times. To discover how we can improve coding accuracy and financial performance for your organization, contact Streamline Health today.